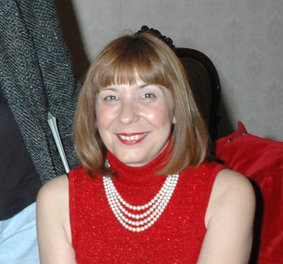 Jasmina Mihajlović was born in Niš, Serbia. She is a fiction writer and a literary critic. She graduated in 1987 from the Faculty of Philology at the Belgrade University – Department of Yugoslav and Foreign Literature. She taught literature in Belgrade secondary schools from 1987; Between 1989-1991 she cooperated with the Institute of Literature and Art in Belgrade on the project ''Serbian Literary Criticism", and from 1991 to August of 1999 she was Director of the Council for Promoting Serbian culture abroad, with the World Serbian Community seated in Geneva.
Since 1999 she has had the status of freelance artist. She is member of the Serbia Literary Society, columnist for the ''Lisa", magazine belonging to the "Burda" corporation, "Grad", "Jasmin", and the author of seven books: Tale of the Body and Soul. (Layers and Meanings in the Prose of Milorad Pavić, 1992); Two Tales from Kotor, (with M. Pavić, 1998); Private Collection (2000, 2001, 2004, 2005); Travel Album (2004, 2005); Love Story in Two Tales (with M. Pavić, 2004); Love without Secrets, 2005); Love with Dictionary of the Unknown (2006). Her novel Parisian Kiss (Ljubitelji knjige, Novi Sad, spring 2007) is soon to come out.
She is the redactor of the Milorad Pavić's collected works, his biographer and bibliographer.
Her fiction has been translated into the English, Russian, Greek, Ukrainian and Slovenian languages.
Jasmina Mihajlović, as a literary author, nurtures an eclectic genre of travel and epistolary prose with traces of the anthropological essay and private narrative, which is read with the tenseness of a thriller, horror and great love story.
Jasmina Mihajlović's book Private Collection (Dereta, Belgrade, 2000, 2001, 2004, 2005), contains her "Autobiography in Scents" and six stories: "The Unholy Place", "Three Tables", "Breakfast at Cituras", "Paris is Deodorant for the Soul", "Russia in Winword", "Summer in France". This is a series of exciting travel tales that, apart from unusually experienced places and regions in Serbia, Montenegro, Russia, Greece and France, depict the author's life with her husband, author Milorad Pavić.
Book reviews
Private Collection
Her stories, along with a detective twist, elements of horror and fantasy, abound in lucid, modern, urban female observations on various phenomena of the final decade of the 20th century. In the Private Collection the reader will find a diary-style, epistolary, autobiographical and travel prose. This book by J. Mihajlović does in fact contain the author's private collection: of unusual places in time and space, strange events, furniture, families, houses…
Travel Album
Travel Album (Dereta, Belgrade, 2004, 2005) is both a book of stories and a novel in tales, as well as an anthropological essay, a private narrative and a travelogue… It is read as an exciting thriller. It has drama, tenseness, disturbing disclosures, an intimate yet not trivial unveiling of a marriage of two authors, Milorad Pavić and Jasmina Mihajlović. Travel Album is somewhat like a love travelogue with many layers that can be drunk as a glass of spring water, but also a glass of expensive champagne.
Travel Album belongs to an eclectic genre for the new age in which female aestheticism, sensibility, honesty and moral righteousness have the main say.
Travel Album received the award "Dereta's Book of the Year" for 2004. The NIN magazine included it among the ten best books of prose in the same year. It has for nine continuous months been among the top ten on the bestseller list of Dereta's bookstore.
Love without Secrets
In the book Love without Secrets (Dereta, Belgrade, 2005) you will find public, private and secret truths on the densest of human emotions – love. These guru essays will leave nobody indifferent. They are an uncompromising view on the past, the present and the future of all kinds of love in a person's life. The observations of Jasmina Mihajlović must be trusted for they are no cheap, fast food spilling of reheated general wisdoms but rather material on the amorous reality and tomorrow of us and the world.
The condensed ease of depth in these texts inspires us to love, first and foremost, ourselves!
A refreshing, sobering and positive view upon the world.
It's a collection of recipes for an emotional life with more quality, fulfillment and happiness; a reference book about the right to have emotions; a step-by-step manual for conquering the fear of love; a lexicon of notions which make up the foundations of love; a DIY on liberation from the feeling of guilt; an encyclopedia of different kinds of love.
Love with Dictionary of the Unknown
In short, Love with Dictionary of the Unknown is a little bible of new sensitivity.
Jasmina Mihajlović speaks openly from the female point of view regarding the things people usually choose not to talk about in public and they write about it even more rarely. She has found the right words to say the things that are preferably keept a secret.
Our mothers and grand mothers used to pass on intimate books of recipeš'bn how to behave in different situations according to etiquette. They taught us what is healthy, useful, decent and nice. Jasmina Mihajlović has given us this treasure of wisdom which rests on the key truth nobody has ever taught us here – that love is the true foundation of all our health.
Last but not the least, this book liberates us from the guilt we feel for having secret thoughts, it teaches us how to free ourselves from the historical role of the woman-vic- tim that has been honed for centuries.