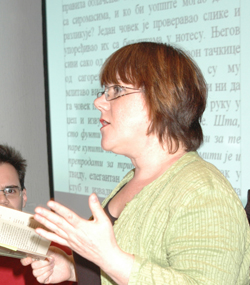 Louise Welsh's internationally award winning The Cutting Room sold into nineteen languages and was adapted for the stage. The Guardian chose Louise as one of Britain s Best First Novelists of 2002 and a woman to watch' in 2003. In 2004 The Observer included her in a list of eighty people who will 'define the country's culture, politics and economics for a generation.' She received an RLS Memorial Award in 2003, a Glenfiddich Spirit of Scotland Award in 2004, a Hawthornden Fellowship in 2005. She is currently a stipendiat at the Internationales Kunstlerhaus Villa Concordia in Bamberg, Germany and has been granted a Civitella Ranieri Foundation Fellowship for 2008. She is a regular radio broadcaster, has written drama for BBC Radio 4 and has published many short stories and articles. Her first stage play, The Importance of Being Alfred was short-listed for a Critics Awards for Theatre in Scotland in the best new play category (2006). Her second book, Tamburlaine Must Die was published to critical acclaim in 2004 and was adapted for stage and radio. Her third novel The Bullet Trick hit the shelves in July 2006 and was immediately optioned for film by Kudos Productions. Louise's recent reading tours include France, Germany, Canada, North America and Australia. She is currently working on her fourth novel.
Book reviews
The Bullet Trick
Welsh evokes the spangled world of Berlin nightlife so skilfully – not to mention mastering the minutiae of stage magic – that the action never flags for a minute. (Sunday Telegraph)
Few contemporary novelists write as well as Welsh, and fewer British writers stand equal to her narrative ease… keeps its secrets and tricks and, above all, its rea­der hectically on the run. (Irish Times)
Conjures the backstage buzz, camaraderie and back- stabbing of the burlesque scene. (Observer)
Louise Welsh is the great hope of those wishing to bridge the gap between literary and genre fiction… her prose cracks along seasoned with a memorable phrase- making acute observation [and] exemplary theatrical timing. (The Times)
The Bullet Trick's description of decline and misery is utterly convincing… Welsh's account of Wilson's failure to grasp Sylvie, the novel's erotic core, is purposely maddening and moving. (Times Literary Supplement)
Reaches new depths of depravity and scales new hei­ghts in crime writing… Seedy back-street magic clubs are the perfect setting for Welsh's writing – the most noir of any novelist I can think of writing today. (Herald)
An outstanding follow-up that will surely bring her fame and fortune. (BCA)
Tamburlaine Must Die
…a fast-paced and sparkling story that needs no literary knowledge to be enjoyed and which should win Welsh, and possibly even the late Marlowe, some devoted new fans. (The Glasgow Herald)
A taut, seedy novella scraped off the undercarriage of Elizabethan England. (Arena)
…a tale of vivid homosexual passion, murderous treachery and strutting intellectual pride… a sparky additi­on to the Marlowe myth. (The Financial Times)
…utterly engrossing. I read it in a sitting, unable to put it down. Elizabethan England has never seemed more beguilingly immediate. (The Sunday Telegraph)
…the rocket-propelled novella also features the uneasy intrigue of a Raymond Chandler or Dashiel Hammet thriller. (The List)
Pleasantly lurid. (London Review of Books)
A little gem. (Mike Ripley in The Birmingham Post)
The only quibble is why Welsh chose to write a novella: you cannot help wishing for more. (Jack)
Welsh's sentences ooze fun. (Uncut)
A gripping fiction as bloody and entertaining as one of Marlowe's own plays. (Diva)
This bold, imaginative vibrant novella resonates on several levels. It's claustrophobic airs of menace and betrayal are those of a thriller. It works as a historical fic­tion… it is a paean to a Romantic hero. (The Daily Telegraph)
This account of the last three days of Marlowe's life has lashings of sex and violence, plus a dash of poetry. (The Independent)
The language has the ring of Elizabethan authenticity without ever being incomprehensible and no knowledge of either the real life Marlowe or his work is required. (Stirling Observer)
Tamburlaine Must Die sets the seal on Welsh's skill as a writer. She weaves fact and fiction into a compelling plot… (Scotland on Sunday)
Welsh's Elizabethan metropolis is pungently atmospheric, a city of competing playwrights, corruption and mistrust where religion and politics are as entwined as sex and death. (The Observer).
It is a page-turner till the very end. (The Sunday Herald)
The sort of narrative you can smell on your hands after turning the pages. (Literary Review)
Elegant, but pacy. (Buzz)