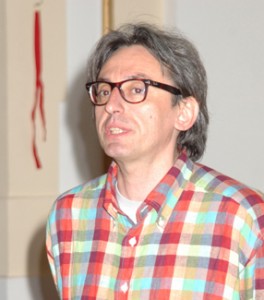 He was born on 2nd May in Sarajevo. He is married and has a daughter. He matriculated from the Mathematics Grammar School in Sarajevo and graduated from the Faculty of Philosophy in Sarajevo, the Department for Yugoslav Literature and Serbo-Croatian Language in 1986, furthering his education defending his Master's Degree thesis on 'The Political Theatre of Dušan Kovačević' (2006). He is now Assistant Professor in the Department for South Slavic Literature at the Faculty of Philosophy in Sarajevo. He is the editor of the magazine Vizija and the owner of the Private Enterprise Literary Workshop Omnibus, as well as the owner and founder of the student monthly review Omnibus and satirical weekly publication Alčak. He was the editor-in-chief of the magazine FAN (1996-1998), a member of the editorial board of the magazine Bosnian Fairy (1998-2000), secretary of the Institute for Literature in Sarajevo (1991-1992) and a teacher at the First Grammar School in Sarajevo (1987-1990). Veličković is a member of the PEN Centre for Bosnia and Herzegovina. He has taken part in many literary meetings, conferences and events in: France, Poland, Macedonia, Serbia, Slovenia, Germany, Croatia, Greece, Turkey, Montenegro, Portugal, Belgium, Russia, Ukraine, Bosnia and Herzegovina, etc.
Veličković's published books: Lodgers, novel, Sarajevo, 1995, 1996, 1999, 2003 and 2004; Zagreb, 1997. The book has been translated into Italian (2), German, Slovenian, Hungarian, Macedonian, English and Polish. In Serbia, the book was published by 'Stubovi kulture' (1998); The Devil in Sarajevo, a collection of stories, Sarajevo, 1996, 2006, and Split, 1998, 2001; Sexicon-Sexpresionizam, a two-faced book, a dictionary and collection of essays, Sarajevo 1998; Sarajevo Gastronauts, a story about food the citizens of Sarajevo received as humanitarian aid, Sarajevo 1999; My Daughter's Father, novel, Sarajevo, 2000, 2002 and 2004. The book has been published in Bulgaria. The Serbian edition was published by 'Stubovi kulture' (2003); Sahib, novel, Split 2002; this novel was published by 'Stubovi kulture' in Serbia (2002); The Poetry of Repairism/Just Hold on, It Won't Be Much Longer, selected satires, Sarajevo 2003; Sahib, Impressions from Depression, Sarajevo 2005. The novel has been published in Slovenian (2005); Viva SEXICO, Sarajevo, 2006.
He has written a number of radio dramas, screenplays for series, films, dramas, cabarets, TV spots, dramas for theatre and puppet shows, dramatizations…
His stories have been published in German, English, Slovenian, Polish, Macedonian, etc, and entered in a number of anthologies and selections of contemporary stories. Veličković also writes theoretical and critical texts. He has received numerous awards for his stories and radio dramas.
Book reviews
Lodgers
There are few works like this one in the literature of Bosnia and Herzegovina. (Josip Osti, Razgledi)
A book which will make you laugh until you cry. (Dorotea Dieckmann, Die Zeit)
A gift to the language and the cul­ture from which it was written. (Miljenko Jergović, Erasmvs)
The novel Lodgers is a brilliant example of a non-conventional and post-modern (anti)war novel of the nineties. As such, it is, of course, a literary work par excellence, so it is the reason why it should be read over and over again. (Teofil Pančić, Vreme)
A top literary text. (Tatjana Jukić, Vijenac)
Unforgettable book. (Cornelius Hell, Spectrum)
An author deserving of our attention. (.Lilith Frey, Sonntags Blick)
A topmost work! (Ales Debeljak, Delo)
Published as the siege of Sarajevo ended, Lodgers is a hilarious, unsentimental report from the front lines of the Balkan wars of the 1990s. Detergent mixed with flour, museum relics sold to U.N. peacekeepers, the magic power of laminated accreditation – all of the folly and the horror of that time are revealed in the sarcastic report of the novel's teenage would-be authoress. Maja lives in the basement of a Sarajevo museum, enduring with equal annoyance Serb artillery and vegetarian meals that taste like fried sponge. Her father, the museum director, zealously guards the treasures upstairs while their aged co-lodger Julio plots to trade them away. Maja's mother copes with yoga while dour stepbrother Davor endures the endless crying and cravings of his pregnant wife. Floating amidst it all is Maja's grandmother, blind and deaf, yet drawn to any conversation involving food. Need and crisis propel Maja and her companions from one humorous situation to another. Yet her pitch-perfect gallows humor makes it clear that the brutalities of war penetrate these small moments of life-and even the self-centeredness of a teenaged girl. A best seller in the Balkans and widely translated in Europe, Lodgers is an uncompromising novel about a modern tragedy (…) The hardships of a contemporary tragedy fail to daunt her irrepressible innocence, for, in deploying his curious cast of "lodgers", Veličković reveals an artistry that defeats the forces of brutality with wit, indirection, and boundless good humor. (Michael Pinker, Context)
The Devil in Sarajevo
The book The Devil in Sarajevo is characterized, in my humble opinion, by 'the exact measure of creative distance' regarding topic and literary transcription of life subject matter taken from the hell of warring Sarajevo: the stories 'Knight Hypothalamus', 'Down-hill', 'Honey Crescent', 'The Finger', 'Necessity' – could be entered into any anthology of contemporary Bosnian short stories, even represent our short story prose on a wider plain, on a European level. (…)
Veličković knows at every moment exactly what to say, and what he is allowed to say, while he also finds the correct form and style to phrase his expression. Precise description and suggestive observation, authentic lexis and balanced dialogues, dynamics and dimension of the narrative flow, condense punch lines – all these, it seems to me, require more than just literary knowledge and being well-read: but rather, the secret lies in striking the right spot and 'living' a certain point of view – the very point of view which reveals the meaning of the things in their silent correlation' and the play of shadows and reflections of different elements of reality… (Željko Grahovac)
My Daughter's Father
My Daughter's Father is a story about the bleak everyday existence of a young and ambitious marketing designer who is trying to climb up the ladder in the cruel condi­tions of the aftermath of the war, but who is simultaneously a father by "profession", but also a husband possessed with adulterous fantasies about his new co-worker Vanda.
In the novel My Daughter's Father there is no more war, but the war is still present in people who are trying to renew family life. They are hollow and defeated and they can see only one way out: leaving Sarajevo, because happiness awaits them under some new skies. This is a story about a family that has managed to hold together during the war in Sarajevo, but it fails to survive the emptiness of the peace.
The father, a neurotic advert designer, under the weight of objective life problems coming with the new Sarajevo times after the war, suffocating in his own dissatisfaction, frustrations, sexual fantasies, occasionally encouraged by the feeling of omnipotence alternating the feeling of helplessness, has a vision, but no chance to even try fulfilling it – he comes to realize that the whole thing is actually a big scam. He is trying to come closer to his daughter by coming down' to the level of her age, explaining the absolute illogicalities that happen around her and affect her childhood. An unbearable physical pain located in his testicle follows him throughout his story, the pain which is physically and mentally making him miserable. He visits doctors, changes therapies, and swallows antibiotics, only to finally learn that his condition is not something you can cure – you have to live with it. After his wife and daughter immigrate to Australia, he comes back to his computer and stares at the screen which reads: 'Now it's safe to shut yourself down.'
This is Veličković's third novel in which he uses humour and irony. Basically the book is sad, but it will put a smile on your face, albeit a wry one, but nevertheless a smile. (…) Behind this smile a serious problem is hidden, and that leads us to conclude that Nenad Veličković is an incredibly witty writer. (S. S. M., 2004)