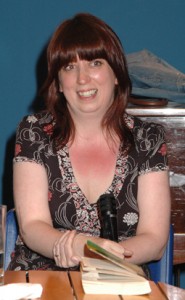 Zoë Strachan, one of Scotland's leading contemporary writers, was born in 1975 and grew up in Kilmarnock. She studied 'Archaeology and Philosophy', but after she had understood that her degree "held no practical use whatsoever," so it was her love of reading that persuaded her to study Mlitt in 'Creative Writing' at the Universities of Glasgow and Strathclyde in 1999.
Her first novel, Negative Space (Picador), was published in 2002. It won a Betty Trask Award and was shortlisted for the Saltire First Book of the Year Award. This book is translated into Swedish.
Her second novel, Spin Cycle (Picador), came out in 2004 to critical acclaim and was released in paperback in August 2005.
She has published short stories in literary magazines in Britain and abroad as well as extensive newspaper journalism, and contributes to various radio programmes.
Her first radio play, One Small Step, was broadcast on Radio 4 in August 2005 and performed at Oran Mor in Glasgow. For the past three years she has tutored on the MPhil in Creative Writing at the University of Glasgow.
In autumn 2006 she was UNESCO City of Literature writer-in-residence at the Museum of Scotland in Edinburgh. She is working on her third novel, Play Dead (with the help of a Scottish Arts Council Writers' Bursary) and currently lives in Germany.
Book reviews
Negative Space
A sparkling, fantastical tale. (Eve)
A moving exploration of grief and bereavement… so rawly done it hurts to read. (The Independent)
'A perfect eye for the small detail… the first person voice drifts between past and present with astonishing effectiveness. Intimate and real. (Scarlett Thomas, Independent on Sunday)
Strachan understands and conveys raw emotion. Many readers will connect with this story. (Diva)
The author has a wonderful ear for dialogue and the Glasgow parts pin the city exactly. (Glasgow Herald)
A powerful portrayal of grief. (The Scotsman)
Nothing here feels neat or pat, and as a result this is a complex, mature novel with thought-provoking, well- crafted themes. (Independent on Sunday)
Honest, intimate and powerful… You'll find yourself filled with an astonishingly vivid sense of what it is like to cope with the death of a loved one. (Iafrica.com)
Negative Space is a powerful, sometimes painful tale. Its chief achievement-and this is no mean feat-is to create a central relationship possessing all the luminous intensity of the best love stories. But this is no romance, nor is there anything predictable about its outcome. Strachan's mission-to write about a love blurred by blood-ties and interrupted by sudden death-demonstrates a courage and an honesty rare in first novels. (Matthew Baylis, official Amazon.co.uk Review)
Negative Space was also nominated for The Big Gay Read 2006 by Helen Walsh, in these terms:
"The best queer novels are the ones which queer the landscape, where gay is every bit as apolitical as straight and where gender and sexuality are very much like shoes – they fit for as long as we want them to. Zoe Strachan's Negative Space is a brilliantly executed queer read in the sense that sex is more of an issue than sexuality. The L word doesn't even come into it. The central protagonist is a young Glaswegian female trying to come to terms with the death of her brother, Simon. She finds no salvation in the city's smoky, drinking haunts or in the sexual encounters she procures there. Each futile experience merely deepens her grief. It's only when she leaves Glasgow for the wild rugged planes of Orkney does the healing process begin. It's here that she meets the beautiful, self-assured Iram. Their encounter is all too fleeting, but its metaphor­ical resonance reverberates long after the final pages. Strachan writes from the heart – the striving splintered heart. This is not so much a gay novel, but a great novel".
Spin Cycle
A gripping novel, full of twisted psychology and dark, covert obsessions; both murky and dazzling. (Uncut)
Pitch-perfect: intelligent construction, unrelenting tension and a redemptive flourish of an ending. (The Big Issue)
One of the most gorgeously written books I've read in a long time. Strachan illuminates the failings and dreams of her cast in graceful, probing brush strokes. Each page is wondrous and urgent and leaves you gasping for more. Strachan rocks. (Helen Walsh, author of Brass)
Bringing the launderette sub-genre bang up to date, Strachan's three damaged female protagonists are complex, secretive and isolated. A rich, poignant work. (The List)
Strachan breathes life into her characters and settings, and there's a warmth to her prose which suffuses reading about them with a sense of intimacy. (Glasgow Herald)
Spin Cycle has the noir sexiness of Dance With a Stranger: idiosyncratic individuals, gnarled by bitterness and covetous desire, moments of small embarrassment and mundane realism, the eventual breathless climax. (Uncut)
The tension never dips, dialogue is perfect. A must read. (Daily Record)
Strachan follows her prize-winning first novel Negative Space with another well-observed and quietly forceful story about women in emotional turmoil… She makes us notice the everyday detail of their working lives, the minor tensions and the camaraderie, the idle chat and occasional pearls of wisdom, and introduces us to a parade of those strange people without washing machines who all get cameo parts while they're waiting for the spin cycle to finish. (Independent on Sunday)