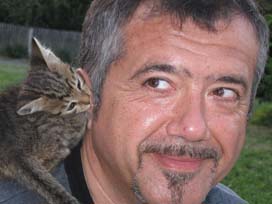 Vladimir Pištalo was born in Sarajevo in 1960.
He grew up in Mostar, Kraljevo and Belgrade, where he completed primary and comprehensive high school. He studied Law in Belgrade and Sarajevo, getting his PhD in American History at the University of New Hampshire in the United States.
Before his emigration to the United States in 1993, he worked as a journalist and actively and critically commented on the bloody destruction of Yugoslavia in his column in "Vreme" magazine. He is currently the associate professor of Liberal Arts at Becker College in Massachusetts, where he teaches the US and World history.
Pištalo published his first story in a literary magazine when he was 18 and his first book when he was 21. As a student, he co-established the literary group Belgrade Manufacture of Dreams. He has published 10 books of fiction ranging from poetic prose to novels (Picture Book, Nights, Manifestoes, The end of the Century, Corto Maltese, Stained Glass Memories, Aleksandrida, Stories from around the World, Millennium in Belgrade, Tesla, A Portrait among Masks). His stories have been included in all major anthologies of both Serbian and Bosnian prose.
Two of his books, Manifestoes and Millennium in Belgrade have been translated into French. In April 2010 the Italian edition of Millennium in Belgrade is scheduled to appear in Rome. At the same time, Russian edition of his novel about Tesla will be published in St. Petersburg. In addition to that, Tesla, A Portrait among Masks is being translated into French, Hungarian, Slovak and Macedonian languages. The English translation is currently being reviewed by two American publishing houses.
Pištalo has received Miloš Đurić Award for his translation of the poems of Charles Simic. His novel Tesla, A Portrait among Masks was awarded the NIN literary award, the most prestigious literary award in Serbia, for the best novel in 2008. It was also awarded the People's Library of Serbia Prize for the most popular book in the libraries of Serbia in 2009. His novel Millennium in Belgrade was a finalist for the Prix Femina Award for the best translation in France among 700 translated novels in 2008.
Pištalo still believes that: Reality is an ore from which, when rinsed, we get dreams.