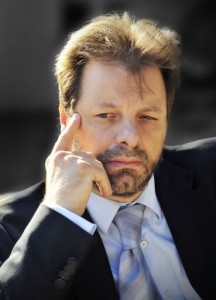 About the author
Aleksandar Gatalica was born in 1964 in Belgrade, where he graduated in General Literature and Theory of Literature with Ancient Greek.
He has published:
Novels: Linije života (Lifelines, awards Miloš Crnjanski and Giorgio la Pira in Italy), Naličja (The Reverse Sides), Kraj (The End), Euripidova smrt (The Death of Euripides) and Nevidljivi (The Invisible, the Stevan Sremac award).
Books of stories: Mimikrije (Mimicries), Vek (The Century, awards Ivo Andrić and Umberto Saba in Italy), Beograd za strance (Belgrade for Foreigners), Dijalog sa opsenama (A Dialogue with Phantasms) and Dnevnik poraženih neimara (The Diary of Defeated Masons).
Prose of Aleskandar Gatalica has been published in all literary journals in ex-Yugoslavia and Serbia. His books and stories have been translated into all major European languages.
He currently publishes for Vulkan Publishing, which is preparing, besides his Veliki rat (The Great War, the NIN Award and Meša Selimović Award), the publication of his selected works.
About the books
Veliki rat (The Great War) is a first-class sensation in our literature. The most successful novel of the 21st century.
Draško Ređep, Večernje novosti
Veliki rat (The Great War) is undoubtedly the best work written by Aleksandar Gatalica so far and one of the best novels in the last ten years.
Mladen Vesković, Književni magazin
This is a novel with a hundred faces, and all of them together make up a diverging and multi-layered story about World War I. Here, there is no separation between two worlds: the fictional and the real. Borislav Pekić would have added the Spirit of History and the poetical content of the past as a predominating content of any successful literary work. Veliki rat (The Great War) belongs to this category of work.
Petar Pijanović, Politika
This is, so far, the best novel by Aleksandar Gatalica. His chronicling-mystical reach into history is formidable in scope: from brothels and studios to the invisible military fronts all over the world, from submarines into zeppelins and aeroplanes…
Vesna Trijić, Blic
Veliki rat (The Great War) shows that the word can be powerful, can be deadly and far-reaching.
Miomirka Nešić, Mons Aureus
ија
The new novel Veliki rat (The Great War) is an imposing book about World War I.
Jasmina Vrbavac, programme Vavilon, RTS
Veliki rat (The Great War) leaves a strong impression about the power of narration which successfully and convincingly depicts the spirit of history.
Mileta Aćimović Ivkov, Polja
Veliki rat (The Great War) is an extraordinary book almost without a match in our languages.
Miljenko Jergović, Jutarnji list, Zagreb