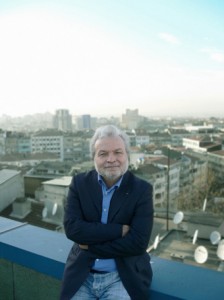 About the author
Nedim Gürsel (1951) is an eminent Turkish writer and intellectual whose extensive and diverse literary opus has gained followers in more than twenty countries all over the world. He graduated from the Sorbonne's Department of Modern French Literature, where he also earned his PhD by defending a comparative thesis on French and Turkish poetry. He teaches Turkish Literature at the National Institute of Oriental Languages and Civilisations in Paris (INALCO). He leads a scientific research project dedicated to Turkish literature at the National French Science Research Centre.     
Nedim Gürsel has written a number of story collections, several novels, and works of travel writing and literary history studies, among which are: Love in the Afternoon (Oğleden Sonra Aşk), The Book of Women (Kadınlar Kitabı), The Conqueror (Boğazkesen), A Summer without End (Uzun Sürmüş Bir Yaz), The Death in the Sun (Guneşte Olum), A Handful of the World (Bir Avuc Dunya), The World in Images (Resimli Dünya), The Paris Texts (Paris Yazıları), The First Woman (İlk Kadın), Traces and Shadows (İzler ve Golgeler), Nazim Hikmet – The World's Poet (Dunya Şairi Nazım Hikmet), Rebelled Literature (Başkaldıran Edebiyat), Yachar Kemal (Yaşar Kemal), Remember, Barbara (Hatırla Barbara), The Daughters of Allah (Allah'ın Kızları).
He has received a number of Turkish and international literary awards – the Prize of the Turkish Language Academy (1976), the Abdi Ipekçi Peace Prize (1986), the Freedom Award by French PEN Club (1986), The Haldun Taner Citation for Story (1987), the Struga Gold Plaque Poetry Award (1992), the prize for best story by Radio France Internationale (1992), Chevalier of the French Order of Arts and Letters (2004), The World Brotherhood Prize 'Mevlana' (2009).
His novel The Daughters of Allah won him the Prize for Freedom of Thought and Expression in 2009, awarded by the Association of Turkish Publishers, and he has received the International Literary Award Balkanika for the novel Satan, Angel and a Communist (Şeytan, Melek ve Komünist).