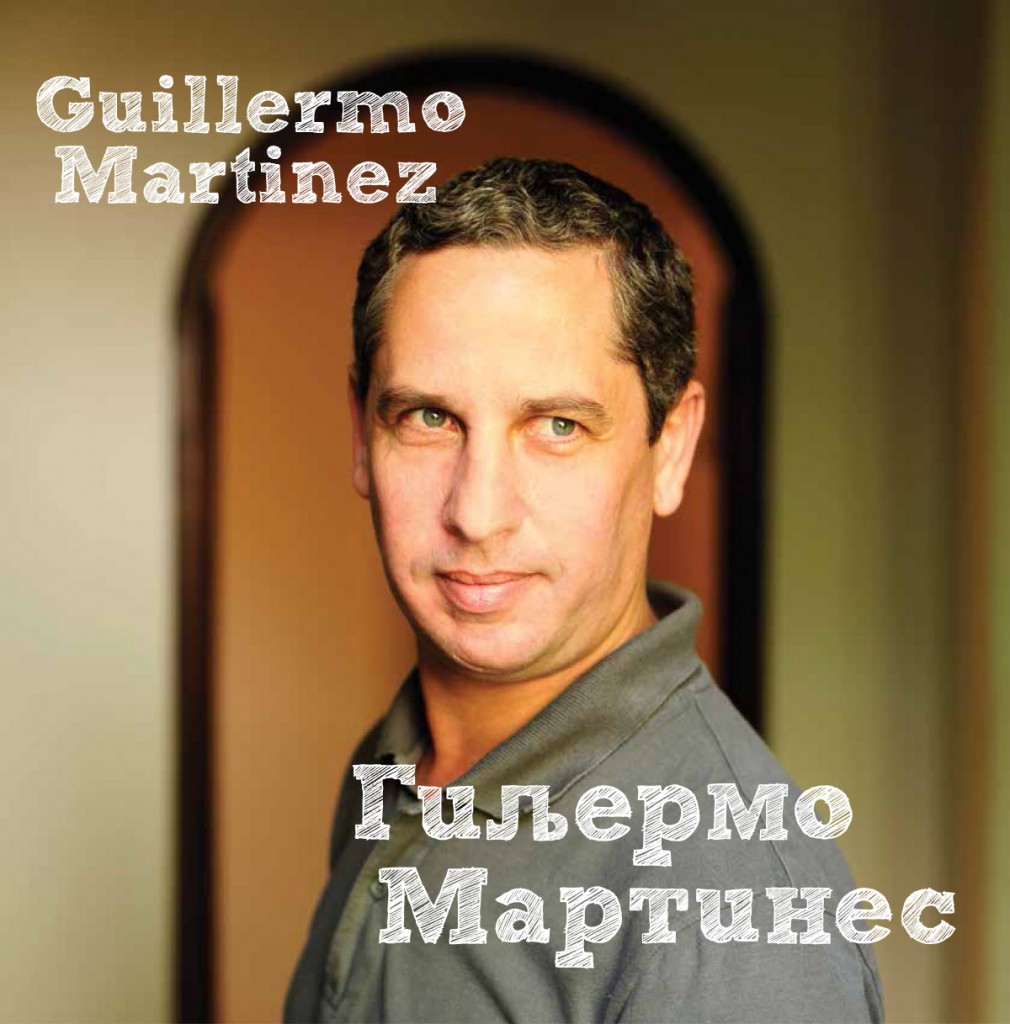 Guillermo Martínez was born in Bahia Blanca in 1962. He moved to Buenos Aires in 1985 where he gained a PhD in Mathematics from the University of Buenos Aires, upon which he spent two years in Oxford. Today, he is dedicated exclusively to writing.
  He authors two story collections: Infierno grande (Vast Hell, 1989, National Fund for Arts Award) and Una felicidad repulsiva (A Repulsive Happiness), 2014, Award for Spanish-American Short Story "Gabriel Garcia Marquez"). His debut novel, Acerca de Roderer (Regarding Roderer, 1992), met with critical acclaim and has been translated into fifteen languages. It was followed by the novels La mujer del maestro (The Woman of the Master, 1998), and Crímenes imperceptibles (The Oxford Murders, 2003, which earned him the Planet Award, and has been translated into thirty-eight languages and made into a film directed by Alex de la Inglesia), La muerte lenta de Luciana B. (The Book of Murder, 2007), which was voted among the top ten books of the year, and Yo también tuve una novia bisexual (I Also Had a Bisexual Girlfriend, 2011), all published by the publishing house Planet. He authors three books of essays: Borges y la matemática (Borges and Mathematics, 2003), La fórmula de la inmortalidad (The Immortality Formula, 2005) and Gödel (para todos) (Gödel for Everyone, 2011, in cooperation with Gustavo Piñeiro). He has taken part in the International Writing Program of the University of Iowa and received scholarships from the Banff Centre for the Arts and the MacDowell and Civitella Ranieri Foundations. Moreover, he has won the Konex Novel Award (together with other authors) and the Spanish award Mandarache. He regularly contributes articles and reviews for a number of newspapers and magazines. He has held several courses of literature and creative writing in Malba, at the TEM Foundation, at the University of Virginia (USA) and at the Creative Writing Master Course of the National University of Tres de Febrero in Buenos Aires. He is one of the most translated Argentinean writers in the world.
About the story collection Infierno grande (Vast Hell)
Out of many hells that I have visited, Vast Hell by Guillermo Martinez is one of my favourites. Each story in this collection reveals an exceptional story-teller, and his charming and surprising voice.
Juan Marsé
About the novel Acerca de Roderer (Regarding Roderer)
One of the best novels, or perhaps the best, published recently in our country.
La Nación
Guillermo Martinez has created one of those stories that we have started to forget, which have a universal and traditional value: a perfect and wonderful creation full of ideas joining together the heart and the soul.
El Correo Español, Bilbao
About the novel Crímenes imperceptibles (The Oxford Murders)
Like Borges, his prose explores the consequences of abstract theories of this world. With the skill of magician, Guillermo Martinez tests the reader's ability to explain that which happens before his eyes. Simultaneously creating a tense atmosphere, Martinez avoids the customary formalities of literary forms and genres, and drags the reader into the bewildering conflict between the heart and the reason.
Observer
He is endowed with a keen eye for the material world and his own emotions, a confidential tone of voice and a winning sense of wonder about the mathematical thinking central to this book. All these attributes work magic here.
The Washington Post
A masterpiece of crime genre, this is a page-turner to the very end, which is brimming with topics suitable for a fascinating intellectual debate.
New Books Magazine
About the novel La muerte lenta de Luciana B. (The Book of Murder)
A remarkable and precise structure, due to which each element of the work transcends its apparent substance and reveals an unexpected hidden meaning.
Juan Senabre, El Cultural, España
About the collection Una felicidad repulsiva (A Repulsive Happiness)
This book reflects a distinctive vision of the world in which author masterly intertwines the absurd, spooky, fantastic and wonderful, torn away from the everyday life.
Jury of the Spanish-American Award "Gabriel Garcia Marquez"
Guillermo Martinez has long had his audience in Serbia; his two first novels were published by Novi Sad's Svetovi, the following two – by Belgrade's Laguna. The anthological story Vast Hell was published, appropriately, in Agora's Anthology of Contemporary Argentinean Story; but his stories have never been published here before.  
The stories selected in this book present Martinez' literary world, tricks of the trade and a fortunate amalgam of a scientist worried before the enigma of existence and a small-town tennis jokester. Judging by the topics present in all his books, one can freely say that his work is very coherent, in a way monolithic, professorially controlled and balanced – nothing extra, nothing lacking.
The attractiveness of Matinez' books – stories in particular – lies in this well-hidden hand of the master who is able to translate universal truths into interesting, often tense narratives, without missing an opportunity to play with the genre – from Le Carre, through Lafcadio Hearn and Poe, to Borges and a bit forgotten Quiroga – all the while, adroitly using Well's theory of one-premise fantasy.
Branko Anđić