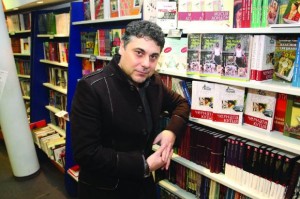 Alek Popov, a prose writer and playwright, was born in Sofia, Bulgaria in 1966. He graduated from St. Constan­tine Ciril Philosopher College (Sofia) in Ancient Lan­guages and Cultures and later received his Masters of Arts degree in Bulgarian Language and Literature from the University of Sofia. He is one of the most widely read and translated contemporary Bulgarian writers. Eight collections of Popov's short stories have been published in Bulgarian to date. His short stories and es­says have been published either as collections or in­cluded in anthologies in German, Turkish, Polish, Ser­bian, French, Macedonian, and Italian. His first novel Mission: London, based on his colourful impressions of the United Kingdom where he was as Cultural At­taché at the Bulgarian Embassy, appeared in 2001 and has had several editions so far. It has been translated into French, German, Hungarian, Serbian, Macedonian, Polish and Italian. The novel will be filmed in 2008. He has also published the collection of essays The Radical Thinker's Companion (by Bulgarian News Agency, now available in Serbian) in 2005; The Mythology of Transition, selected works, 2006; Full Course for Ad­vanced, selected works, 2007; while his latest novel
The Black Box came out of press in 2007 and won the Elias Canetti Prize. It was published in German by Resi­denz Verlag in 2008 under the title Dogs Are Flying Low. He also signs several radio-plays, broadcast by the Bulgarian National Radio: Together Again, 1994; Buba-Lazy, 1995; The Butcher of the Red Valley, 1996; The Bank of All Universe, 1997; Mission: London, 2004.
Alek Popov has won several literary awards including the National Radio's Pavel Veshinov Award for the best short crime story; the Graviton Award for best science fiction; the Raško Sugarev Award for best short story; the prize Helicon for best prose book of the year, 2002; the annual prize of Clouds magazine for the English translation of Mission: London, 2004; the National Prize for Drama "Ivan Radoev", 2005 and most recently the Elias Canetti Prize, 2007, for his book The Black Box (Die Hunde fliegen tief).
Alek Popov is Secretary of the Bulgarian P.E.N. Centre.