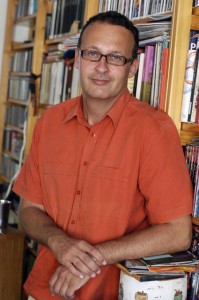 Andrej Blatnik was born on May 22nd, 1963, in Ljublja­na, Slovenia, where he studied Comparative Literature and Sociology of Culture and got his Masters in Ameri­can Literature and PhD in Communication Studies. He started his artistic career playing bass guitar in a punk band, was a free-lanced writer for five years, and now he works as an editor in Cankarjeva publishing house, teaches creative writing and is on the editorial board of the Literatura monthly since 1984. He is one of the jury members of the Vilenica prize.
So far he has published two novels, Plamenice in solze (Torches and Tears, 1987) and Tao ljubezni (Clos­er to Love, 1996), and four collections of short stories: Šopki za Adama venijo (Bouquets for Adam Fade, 1983), Biografije brezimenih (Biographies of the Nameless, 1989), Menjave kož (Skinswaps, 1990) and Zakon želje (Law of Desire, 2000). In addition to this, he published a collection of essays on contemporary American literature, especially metafiction, entitled Labirinti iz papirja (Paper Labyrinths, 1994), a collec­tion of cultural criticism Gledanje čez ramo (Looking over the Shoulder, 1996) and a collection of essays about literature in the digital age Neonski pečati (Neon Seals, 2005).
A short movie was made after one of his stories and another one was adapted into a TV drama. He wrote five radio dramas (one of them, Praske na hrbtu, was presented at the Prix Italia and translated in English and Hungarian) and translated several books from English, Sylvia Plath's The Bell Jar and The Sheltering Sky by Paul Bowles among them. He won some major Slov­enian literary awards (the award of the city of Ljubljana, Zlata ptica, the highest award for young artists, and "Prešernov sklad" award among them). Several of his short stories have been translated and published in magazines in English, German, Spanish, French, Italian, Hungarian, Polish, Slovakian, Croatian, Serbian, and Al­banian, as well as in the anthologies The Day Tito Died (Forest Books, London and Boston 1993), Central Eu­rope Now! (Archa Publishing House, Bratislava 1995), Nouvelles slovenes (Autres Temps, Marseille 1996), The Imagination From Terra Incognita (White Pine Press, New York 1997) and Afterwards (White Pine Press, Buf­falo 1999), among others.
The translation of his book Menjave kož (Skinswaps, 1990) was published in Spanish (Cambios de piel, Lib­ertarias/Prodhufi, Madrid 1997), Croatian (Promjene koža, Durieux, Zagreb 1998), English (Skinswaps, North­western University Press, Evanston 1998), Czech (Promeny kuží, Periplum, Olomouc 2002), Hungarian (Bör, Jak, Budimpešta 2002) and German (Der Tag, an dem Tito starb, Folio, Vienna 2005). Tao ljubezni was published in Croatian (Tao ljubavi, Meandar, Zagreb 1998) and Slovakian (Tao lasky, F.R. & G., Bratislava 2000). Labirinti iz papirja was published in Croatian (Pa­pirnati labirinti, Hena-Com, Zagreb) and Zakon želje in German (Das Gesetz der Leere, Folio, Vienna 2001), Croatian (Zakon želje, Meandar, Zagreb 2002), Czech (Zakon Touhy, Periplum, Olomouc 2004), French (La Loi du Desir, AlterEdit, Pariz 2005) and Macedonian (Za­konot na želbata, Magor, Skopje 2005).
Andrej Blatnik has read fiction in Croatia, Bosnia, Italy, Slovakia, Czech Republic, Austria, Germany, Spain, Por­tugal, Belgium, France, Greece, United Kingdom, Tur­key, Ireland, Brazil, Colombia, Venezuela, Mexico, Chile, Argentina, India, Australia, and the USA (Poets' House in New York City, Library of Congress, University of Iowa, Norfolk State University, Old Dominion Universi­ty, Northwestern University, Intersection for the Arts in San Francisco…) and contributed in conferences in Aus­tria, Greece, Portugal, Hungary, Slovakia, Poland, Ro­mania, Georgia, and the USA. He was a participant of the International Writing Program at the University of Iowa, Iowa City, USA, in 1993, and a guest at the Inter­national Writers Center at the Old Dominion University, Norfolk, Virginia, USA, in 1995, and Ledig House Inter­national Writers Colony in 1998. He received various fellowships, including Fulbright, the Austrian Kul­turKontakt fellowship, and a grant from Japanese gov­ernment. He enjoys traveling, always on a shoestring.