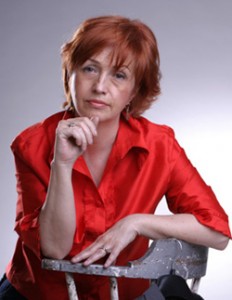 Ljubica Arsic was born in 1955 in Belgrade. She gradu­ated in Literature from the Faculty of Philology in Bel­grade. She teaches literature in the music high-school "Mokranjac" in Belgrade.
Novels: The Guardians of Kazach Edge and The Icon.
Collections of stories: Finger in the Meat; The Shoes of Flea Color; Powder Magazine; The Twilight Zone; For the Seductresses Only; More Tiger-like Than the Ti­ger; Baby, Do You Love Me.
Anthologies she has compiled: "Quickly" (of the world erotic stories), "Frrrrr" (of women's world erotic stories), and "My Soul is in the Sea" (of the sea inspired stories).
Awards: "Borislav Pekic" and the award "Following Isi­dora's Footsteps", for the novel "The Icon"; award "Bilja­na Jovanovic" of "The Pro Femina" magazine for the stories "The Shoes of the Flea Color"; award "Laza Kostic" and "Women's Quill" for the stories "More Tiger–like than the Tiger"; Andric's Award for the stories "Baby, Do You Love Me".
Her books and stories have been translated into Eng­lish, Italian, French, Ukrainian, and Slovakian.
She lives in Belgrade.