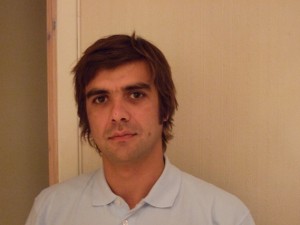 About the author
Bekim Sejranović was born in 1972 in Brčko where he went to primary school. He completed the Maritime High School, nautical course, in Rijeka in 1989, and earned his Master's Degree in South Slavic Literature in 1999 from the University of Oslo. He has worked as a university lecturer, court interpreter for Norwegian, teacher of Norwegian for foreigners, postman, construction worker, sailor, etc.
He has published:
Short story collections: Fasung (The Beating, MD Naklada, Zagreb 2002); Sandale (Sandals, VBZ Zagreb/Belgrade/Sarajevo, 2013).
Novels: Nigdje, niotkuda (Nowhere, from Nowhere, Profil / Bybook / Booka Zagreb / Sarajevo / Belgrade, 2008); Ljepši kraj (A Nicer Ending, Profil / Bybook / B92, Zagreb / Sarajevo / Belgrade, 2010).
He has translated about ten books from Norwegian to Bosnian/Croatian/Serbian.
The novel Nigdje, niotkuda (Nowhere, from Nowhere) was awarded the Meša Selimović Award for the best novel published in B&H, Serbia and Montenegro in 2008.
The novel Ljepši kraj (A Nicer Ending) was shortlisted for the Jutarnji list Prize and was a candidate for the Meša Selimović Prize in 2010.
His books have been translated into several foreign languages.
He lives and works in Ljubljana, Rijeka, Brčko, Oslo, Stari Grad (on the island of Hvar) and some other places, wherever life takes him.
About the books
About the book Nigdje, niotkuda (Nowhere, from Nowhere)
The hero of Bekim Serjanović' debut novel spends all his life in wandering, like some contemporary Odysseus. After a childhood in Bosnia, he moves to Rijeka where he spends his rebellious teenage years, only to be taken to Norway in the aftermath of the war breaking out. Exiled there, he is forced to start anew.
However, the roots are too strong and they keep dragging him back, but the country he longs for is no longer the same. A foreigner in Norway, as well as in former Yugoslavia indeed, the narrator is doomed to roam the meridians, both those geographical and those intimate, in a continual search for the lost country and the lost years. 
However, this is not a mere autobiography of an involuntary expatriate. Before us is an intricately produced filigree-like history of the 20th century, presented through a story of one's family history. Wandering, refuge, exile… as a destiny of a region and the driving force of a never-ending cycle of new beginnings. A brilliant debut novel of one of the most talented Bosnian writers and probably the freshest voice since the appearance of Miljenko Jergović. Deservedly awarded with the prestigious regional prize Meša Selimović (in competition of Arsenijević, Pištalo and Albahari), Sejranović came from 'nowhere' and won the sympathies of the audience and critics with his book.
Bekim Serjanović' Nigdje, niotkuda (Nowhere, from Nowhere) is a text of autobiographic provenience which seems very authentic; childhood miniatures alternate with images of growing up living a life of loneliness in various places – Brčko, Bosanska Gradiška, Rijeka, Zagreb, Oslo, the islands of Svalbard and others. It is a reflection of a destiny which is logically rounded up in the title of the novel 'Nowhere, from Nowhere'.
About the book Ljepši kraj (A Nicer Ending)
From Bekim Sejranović, the author of the novel Nigdje, niotkuda, winner of the 'Meša Selimović' award, comes a new novel entitled Ljepši kraj, which is almost a sequel to the first story, also written in the style of an autobiography. These two books are linked by the hero's life in emigration between Norway, Croatia and Bosnia, and the authentic auto-destructive framework he is trying to escape trying to take refuge in love. Sejranović' writing is genuine, simple and fresh, with a lot of humour, and usually self-irony. Destinies of several heroes intertwine in this book, in which the author paints an image of a bleak world with parallel stories set in different times and locations – between a wooden cabin in Bosnia, a rented room in Oslo and far-away countries his hero runs to in search of some sense – while a deep feeling of not belonging, almost as if expatriated, follows him.
But, the ending is nicer nevertheless.