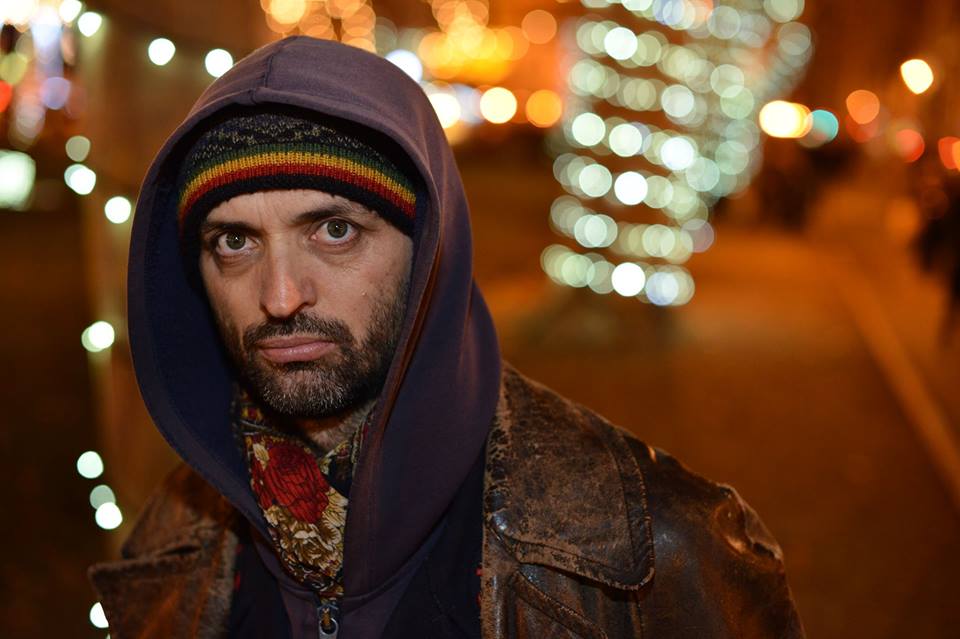 Damir Karakaš was born in 1967 in the village of Plašćica near Brinje in Lika. He studied agronomy, law and journalism in Zagreb, and for a few years he worked as a journalist writing the crime column in Večernji List in Split. In 2001, he moved to Bordeaux in France, and between 2002 and 2007 he lived in Paris, where he earned a living by playing the accordion. He studied French Language at the New Sorbonne University in Paris, performed and exhibited conceptual works. Even as a teenager, he published caricatures and drawings in numerous newspapers in ex-Yugoslavia. He has won several renowned prizes for caricature. He has published the chronicle book Bosanci su Dobri Ljudi (The Bosnians are Good People, 1999), the novel Kombetari (2000), the collection of stories Kino Lika (The Lika Cinema, 2001), the novel Kako sam Ušao u Europu (How I Entered Europe, 2004), the collection of stories Eskimi (Eskimos, 2007), the novel Sjajno Mjesto za Nesreću (A Great Place for Tragedy, 2009), the collection of stories Pukovnik Betoven (Colonel Beethoven, 2012), and the novel Blue Moon (2014). Director Dalibor Matanić has made a film based on the book Kino Lika, which received multiple awards in Croatia and abroad. The play Skoro Nikad ne Zaključavamo (We Almost Never Lock in) within the play Zagrebački Pentagram (The Zagreb Pentagram) was directed by Paolo Magelli for the scene of the ZKM. Dalibor Matanić directed the play based on the novel Sjajno Mjesto za Nesreću, for the stage of the Croatian National Theatre in Rijeka (2010). Franka Perković directed the play Snajper (The Sniper) for the scene of the ZKM (2013), and Ivica Buljan directed the same play in Abidjan, Ivory Coast (2013). He has been translated into dozen languages.
The master of the vivid dialogue and condense sentence.
(Jasen Boko, Slobodna Dalmacija)
Even if we had a thousand writers like me, we wouldn't have literature, because it is made by writers like Damir Karakaš, who have chosen the destiny of a writer, who live as writers… These are the people who write on their own risk and their own peril, but create literature.
(Denis Kuljiš, Gordogan)
Flower among potatoes.
(Dražen Ilinčić, Večernji List)
A carefully weighted out swear word says more than thousand descriptions.
(Matej Bogataj, Mladina)
 About the book Sjajno mjesto za nesreću
In his new work, Karakaš maintained all familiar characteristics of his distinctive prose manuscript which is nothing like modern Croatian authors: great literary energy and rich vitality of expressive short sentence freed from any ornaments.
(Mirjana Jurišić, Večernji List)
 The media put the black brow of Karakaš into the drawer of weirdos long time ago, because they don't know where else to put him. A writer, screenwriter, hobo, painter, journalist, musician, actor? None of these determinants describes Karakaš completely, nor does he want to position his public persona in any of the given groups. The problem is that whatever he tries, he does well.
(Božidar Pavlović, Booksa)
 Sjajno mjesto za nesreću is the most complex (includes the entire scope of modern problems) and so far definitely the most successful (well guided plot-wise, with balanced composition and compelling narrative) prose of Damir Karakaš.
(Strahimir Primorac, Vijenac)
 About the book Kino Lika
I would not recommend this exceptional collection of stories by Damir Karakaš to people with weaker stomachs. I completely agree with the recommendation of Robert Perišić, manager of the library, stated on the cover: keep out of reach of children and petty bourgeoisie.
(Davor Šišović, Glas Istre)
 About the book Pukovnik Betoven
Pukovnik Betoven, as well as the entire Lika trilogy of Damir Karakaš (soon between the covers of a single book), shows steady progress of an authentic letter that disfigures and disturbs.
(Saša Ćirić, Radio Beograd)
About the book Blue Moon
Karakaš uses clearly bordered perspective that enables him to show signs of impending catastrophe, but the mini twists within the complex narrative are tose that are brilliantly motivated and do not allow him to interpret and read these signs. It is not only the cuscuta, the skilfully found symbol of true and pretence innocence of baby boomers who carried out wars on the territory of ex-Yugoslavia either as ideologists or leaders, or cannon fodder, or initiators of anti-war demonstrations and peace initiatives, but larger part of them (did I say us) was precisely like protagonist of the Blue Moon, a guy who wanted to have great hair, ride a great bike, win girls, to be free and true to himself…
(Vladimir Arsenić, E-Novine)
I am cold towards Karakaš, I have never met him, and something tells me that I can't meet him; because it is an illusion that we are contemporaries and that we walk the same streets. He belongs to the Croatian literature and culture, and I am here rather by chance. It is true, this has been going on for twenty something years, but not all cases are short and concise like Kharms'. There are epic, decades-long coincidences. Therefore, I don't have a personal reason for writing this text. But yes, I read Karakaš's books. You know, I read everything. Lately this everything boils down to first several pages. At least five minutes per day I dedicate to the modern Croatian literature. This, however, means that I have read everything several times. The Blue Moon very carefully, from the first to the last word. Enjoying it and, after two thirds of this very short book, with respect for the author.
(Miljenko Jergović, Jutarnji List)