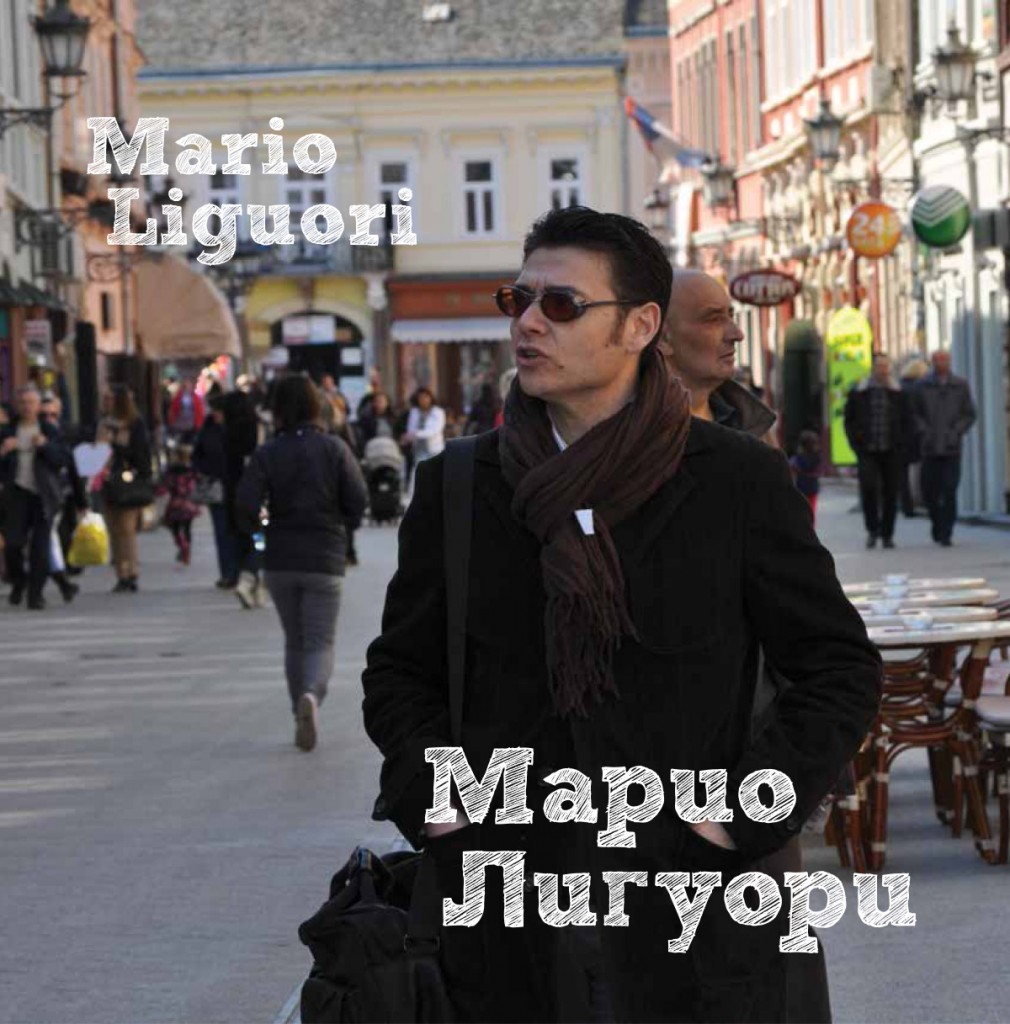 Mario Liguori (Sarno, Italy, 1976) graduated in Comparative Languages and Cultures from the University L'Orientale in Naples, while he earned his Master and PhD degrees from the Faculty of Philosophy in Novi Sad. He writes in Italian and Serbian, and speaks Italian, English, Slovene, Swedish and Serbian.
He has been included in the anthology Buket za staru damu (A Bouquet for the Elderly Lady, Protego, 2008), and has authored travel journals Snatrenja (Daydreams, Službeni glasnik, 2010), a bilingual story collection Sette storie autunnali /Sedam jesenjih prča (Seven Autumn Stories, Akademska knjiga, 2013), book of stories Prva ljubav (The First Love, Laguna, 2014) and a monograph Vedi Napoli e poi muori: Napulj u srpskim putopisima od 1851. do 1951. godine (Napoli in Serbian Travel Journals from 1851 to 1951, Službeni glasnik, 2015).
His articles and scientific papers have been published in Italian, Serbian and Bosnian and Herzegovinian dailies, compendiums and magazines. He has translated scientific papers and catalogues for the Matica Srpska Gallery, and worked as an interpreter at scientific congresses in Italy and Serbia. From 2007 to 2009 he lived in Sweden, where, among other things, he taught Italian at the Language Centre Kävlinge Lärcentrum. He is a passionate traveller, having visited more than thirty countries. He teaches Italian at the Faculty of Philosophy and the Academy of Arts in Novi Sad.
Mario Liguori is one of the most popular writers in Serbia today. Many esteemed Serbian authors, professors of literature and literary critics have spoken and written affirmatively about him and his literature.
Mario Liguori is a very talented writer.
Jovan Ćirilov
Mario has written stories on the highest level of our story-telling.
Draško Ređep
It is not only the fact that Mario Liguori has mastered the Serbian language; he has invented his own Serbian language.
Biljana Srbljanović
Crnjanski and Mario have always been closely linked in my mind […] Why has fate brought Mario in our midst? Perhaps he has ridden on the wave of young Miloš Crnjanski's conviction that joy can come to the unfortunate Slavs only from Italy, from the land of the sun, laughter and renewal? If this is just one of incredible ideas, then one thing is sure: he is here because he has brought back to us the freshness and melody of our language […]
Gorana Raičević
But, a stronger presence of Crnjanski in these stories is felt when one looks at the lives of heroes in Mario Liguori's stories… In the same way as the protagonist of the Journal of Carnojevic holds his little life in his hands, like a eunuch holding sultana's ring while she is taking a bath (it is in his hands, but it is not his own), similarly, the heroes of Mario Liguori's stories hold their lives in their hands, but those lives do not belong to them – they simply play supporting roles in their own lives…
Milovoj Nenin
When, as a student, he brought me his first academic paper in flawless Serbian, I asked him to tell me the name of the translator. He answered angrily: Professor, don't insult my Serbian! After Daydreams, Seven Autumn Stories and The First Love, I feel I owe him a public apology. I bow my head before the Serbian language of Mario Liguori.
Gojko Tešić
The First Love was one of the most read books in Serbia, and it is certainly good news for literature, but bad news for those who will think that the book with such a title can serve as a guidebook for courting.
Željko Milanović
Mario's journey through the Serbian language and his life in it is a special story. In it, one can recognise bits of Dučić' impressionism, Miloš Crnjanski's Sumatrism, Rasto Petrović' ecstatism. 
Jovan Ljuštanović
With the appearance of Mario Liguori, the Serbian culture has finally got its Joseph Conrad. 
Dušan Veličković
Read his Belgrade travel journal. I have not read a more beautiful account of Belgrade in the last fifteen years.
Petar Arbutina
Whenever a foreigner speaks excellent Serbian, in Belgrade we say that he speaks Serbian almost as Mario Liguori.
Velja Pavlović
It is absolutely true that Mario Liguori's style is better than the style of many a domestic prose writers. 
Saša Radojičić
Mario Liguori's stories persuasively depict new spiritual and geographical landscapes of the Mediterranean and their refractions through the human state of mind.
Goran Maksimović