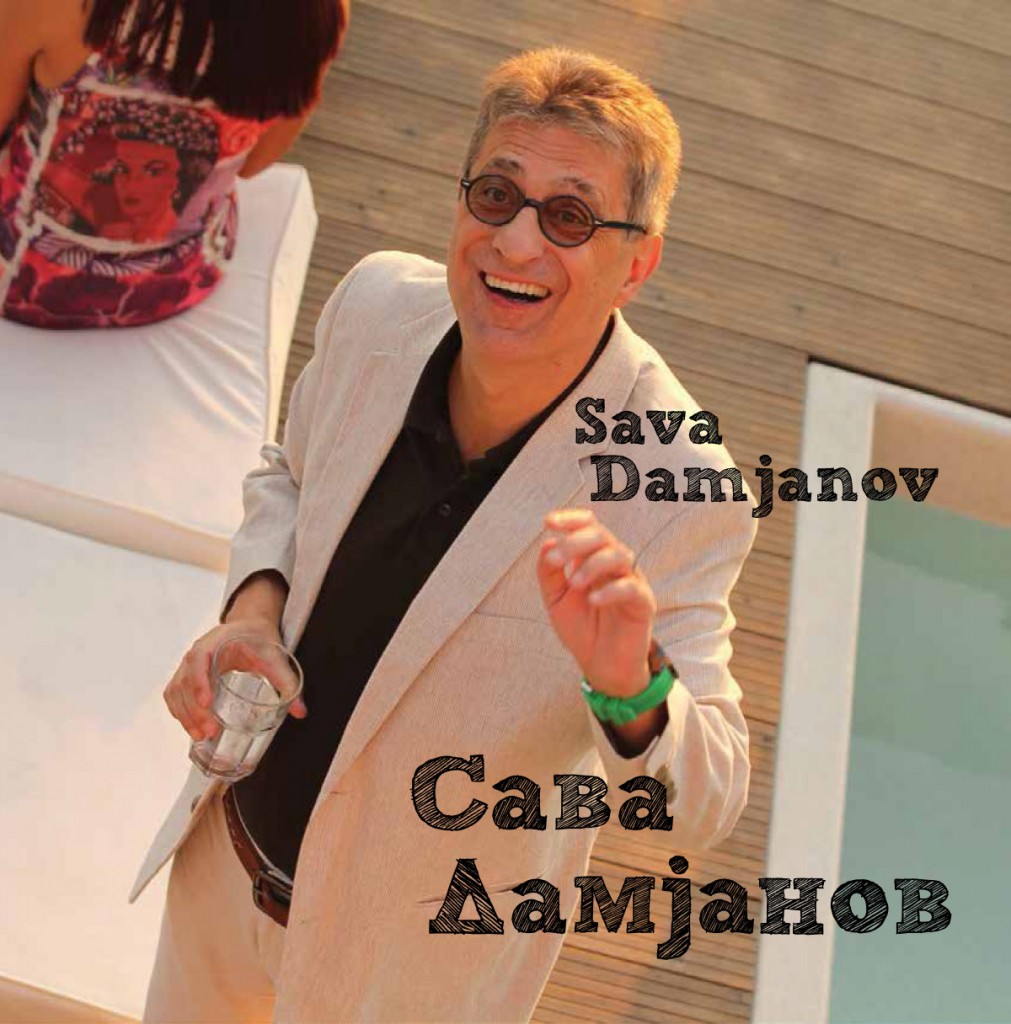 Sava Damjanov was born in 1956 in Novi Sad, where he went to school. He graduated from the Faculty of Philosophy (in 1980, Yugoslav Literature and Serbo-Croatian Language Section), where he also earned his Master (1986) and PhD Degrees (1996), mentored by academician Milorad Pavić. He works at the Faculty of Philosophy in Novi Sad as a tenured Professor at the Department of Serbian Literature; he teaches The 19th Century Serbian Literature and Creative Writing, and a PhD course in The Culture of Postmodernism. From academic year 2003/04 to 2006/07, he was in charge of master studies at the Department of Serbian Language. Within doctoral studies he is engaged as a lecturer or mentor at national and foreign universities (Belgrade, Niš, Nikšić, Ljubljana, Zagreb, Lisbon, Bordeaux, Venice, Krakow, Szeged, and Melbourne).
Damjanov writes poetry, literary critique and texts on literary history. His scientific research focuses primarily on fantasy literature, erotic and linguistic-experimental layers in Serbian tradition, theory of reception, postmodernism, as well as comparatistics. He has prepared for publishing texts of Serbian writers from the 18th, 19th and 20th centuries. During the 1990s he edited the world literature magazine "Pismo" (Letter) and "Sveti Dunav" (Saint Danube) – a magazine dedicated to the Central European culture. He is the editor of the "The Collection of Serbian Fantastic Fiction," "The Novi Sad Manuscripts Edition" (published by the Novi Sad City Library), as well as the anthological series "Ten Centuries of Serbian Literature" with the Matica Srpska Publishing (since 2009). He served on the jury of the Branko Award of Matica Srpska from 1987 to 2004 (and was its president from 1992). He is the founder of the international literary festival "Prosefest" (in Novi Sad, 2007) and the "Milovan Vidaković" prize (since 2008), which is awarded at this Festival for literary life opus. He was the president of the Board of Directors of the Novi Sad City Library (2005-2008), a member of the Board of Directors of the Serbian Literary Society (2010-2012) and a member of the Board of Directors of Matica Srpska (2008-2015); he is the president of the Board of Directors of the Sterijino Pozorje Festival (since 2012).
He speaks German, English and Russian.
In addition to numerous texts in domestic and foreign periodicals, he has published the following books: Istraživanje savršenstva (Exploration of Perfection, novel), Belgrade 1983; Graždanski erotikon (anthology of Serbian erotic poetry), Niš 1987; Koreni moderne srpske fantastike (Roots of Modern Serbian Fantastic Fiction, study), Novi Sad 1988; Kolači, Obmane, Nonsensi (Cakes, Deceits, Nonsenses, stories), Belgrade 1989; Šta to beše mlada srpska proza? (What Was Young Serbian Prose? essays and critiques), Belgrade 1990; Pričke (Short Stories, prose), Belgrade 1994; Nova (postmoderna) srpska fantastika (New (postmodern) Serbian Fantastic Fiction, anthology), Belgrade 1994; Koder: istorija jedne recepcije (Koder: The History of  A Reception, study), Belgrade 1997; Povesti različite: lirske, epske, no najviše neizrecive (Various Stories: Lyrical, Epical, but Most of All Unutterable, stories), Novi Sad 1997; Glosolalija (selected and new stories), Novi Sad 2001; Novo čitanje tradicije (A New Reading of Tradition, literary history essays), Novi Sad 2002; Novi Sad – zemlji raj (Novi Sad – Heaven on Earth, chrestomathy, co-authored with L. Mustedanagić), Pančevo 2003; Novi Sad – Zemlji raj I-II (Novi Sad – Heaven on Earth I-II, chrestomathy, co-authored with L. Mustedanagić), Pančevo 2004; Antologija serbskoj postmodernoj fantastiki (Anthology of Modern Serbian Fantastic Fiction, in Ukrainian), Lvov, 2004, Postmoderna srpska fantastika (Postmodern Serbian Fantastic Fiction), Novi Sad 2004; Graždanski erotikon (Civilian Eroticon, anthology, the second, updated and illustrated edition), Novi Sad 2005; Remek-delca (Little Master-Pieces, stories), Belgrade 2005, Eros i Po(r)nos (Eros and Po(r)nos, essays, reviews, mystifications), Belgrade 2006, Istorija kao apokrif (History as an Apocrypha, novel), Novi Sad 2008, Apokrifna istorija srpske (post)moderne (An Apocryphal History of Serbian (Post)Modernism, essays), Belgrade 2008, Porno-liturgija Arhiepiskopa Save (Porno-Liturgy of Archbishop Sava, stories), Novi Sad-Zrenjanin 2010, Itika Jepolitika@VUK (novel), Novi Sad 2014.
DAMJANOV: SRPSKA KNJIŽEVNOST ISKOSA (SERBIAN LITERATURE FROM ASKEW)
(selected literary history and literary critique texts),
Books 1-5, "Službeni glasnik", Belgrade 2011-2012:
Book 1: VRTOVI NESTVARNOG (The Gardens of the Unreal, essays on Serbian Fantastic Fiction)
Book 2: VELIKI KOD: ĐORĐE MARKOVIĆ KODER (The Great Kod (Code): Đorđe Marković Koder, study and essays)
Book 3: SRPSKI EROTIKON (Serbian Eroticon, erotography in Serbian literature)
Book 4: NOVA ČITANJA TRADICIJE 1-3 (New Readings of Tradition, literary history essays)
Book 5: ŠTA TO BEŠE SRPSKA POSTMODERNA? (What Was Serbian Postmodernism, essays and critiques)
His texts have been translated into English, French, German, Russian, Polish, Czech, Hungarian, Slovakian, Ruthenian, Ukrainian, Bulgarian, Slovenian and Macedonian. He has been included in anthologies of Serbian contemporary prose. During the winter term of 2001/2002, Damjanov taught at the Department of Slavistics at the University Tubingen; he has lectured at the Universities in Regensburg, Freiburg, Berlin, Halle, Trier, Göttingen, Bonn, Torino, Venice, Krakow, Wroclaw, Warsaw, Gdansk, Lodz, Opolе, Veliko Trnovo, Ljubljana, Skopje, Budapest, Kiev and Lvov. He has taken part in a number of international literary and academic symposiums in our country and abroad.
For his literary works and works in the field of literary history he has received: "Branko Award", "Zaharije Orfelin" Award, Award of the Culture SIZ of Vojvodina for the original reaches in literary historiography, Award of the Literary Society of Vojvodina for Best Book of Prose of the Year, "Laza Kostić" Award, "Gospođin vir" Award, and "Sreten Marić" Award. His "Antologija srpske postmoderne fantastike" was the best foreign book in Ukraine in 2004. There are more than two hundred pages of reviews or essays on his books, as well as interviews in domestic and foreign press.
About the novel Itika Jepolitika@Vuk
In regard to his prose, later also recognised as postmodernist, Damjanov insists on innovativeness and inventiveness, on ARS COMBINATORIA, on creative-constructivist combination of various elements, etc. His prose is more than an invitation to read postmodern literature. It is a unique defence of postmodernist literature. Ranging from the statement emphasised by Damjanov: "Postmodernism is no (literary) crime," through perseverance in the continuity of reading, to a democracy of reading and presentation of literary text as a computer hypertext.
Zoran Đerić, Matical Srpska Journal
When Sava Damjanov published his Remek delca (Little Master-Pieces) in 2005, he probably, without even dreaming of it, left room for a master-piece by putting the 'little' in the title – a master-piece that he will symbolically be published nine years later. But, as nothing happens by chance, this novel, announced as the last one by the author, comes as a great synthesis of the entire Damjavnov's opus, and at that, interestingly enough, not only his fiction prose but scientific work, as well as a number of personal interests. In a sense, this novel could be set as a fiction counterpart of the theoretical five-volume title Srpska književnost iskosa (Serbian Literature Askew, 2011). As the basic "position" of the author's aspect in this scientific domain is actually a view from askew, so his 'askew' position as a scholar of literary history actually defined him as a writer.
Branislava Vasić Rakočević, Trag
It is a very good thing indeed that the book Itika Jepolitika@Vuk, A Little Common People's Slavenoserbian Novel, appeared in Serbian literature, that there is the inspiring scholar and story-teller Sava Damjanov with power and creative erudition to overcome the ossified oppositional principle of our cultural being, which assumes devaluation of the leading canons of writing and thinking based purely on the oppositional model: for and against (Dositej and Vuk; for and against Vuk, etc.). The novel Ethics is politics and Vuk could be, in his witty style, defined by genre as a novel without a novel, but it is actually a novel about a hero-author who debates with the dead, whereas he primarily addresses his own self, while Vuk puts his hand on the author's right shoulder, as a gesture of friendly and kind conciliation.
Miodrag Maticki, Beogradski književni časopis (Belgrade Literary Magazine)
The novel, certainly the most intriguing and the most mature work by Sava Damjanov, walks through time with self-awareness and self-confidence – in the style of Eco, I dare say – seeking to change our perception of literary-historic circumstances. A task by no means easy, but when an author uses his mastery, his knowledge of Poeta Doctus, then there is no doubt that the level of the reader's empathy with the very ironic-parodic approach is guaranteed.
Dragana V. Todoreskov, Književni magazine (Literary Magazine)
This novel is as if written by a sweet Slavenoserbian Scheherazade who, maintaining a constant tension of a frenetic, parodically elevated rhythm worthy of the great master Rabelais, reports on Vuk the Reformer contradictorily, while, actually, its language and spirit depict an alternative literary reality where the novel spans a range from a graphic novel, through Damjanovian-sentimental story about Serbian Tristam Shandy, to a civil-baroque creation brimming with the spirit of ethic symbolism of a guidebook through the realm of virtues and vices, the good and evil, the beautiful and ugly.
Considering the fact that this is not "just the latest creation, but the last one as well" by Sava Damjanov, Sterne and Rabelais of the contemporary Serbian prose, it should be consumed 'bottoms up' and enjoyed!
Đorđe Pisarev, Blic
Thus, Sava Damjanov, together with his readers, easily and with self-confidence constructs a novel as a Labyrinth (like the Cretan and Borges' labyrinths), from which, owing to wisdom and life energy, fly out Daedalus and winged Vuk, who, lame as he was, hovers over the Serbian people and wakes them up when they are fast asleep while History is happening… In this Labyrinth, Sava Damjanov observes the entire Serbian political, social and cultural past and present – walking, wondering through its corridors there are the Nemanić family members, Sokollu Mehmet Pasha, Ivo Andrić, Vinaver, Tito, Slobodan Milosevic, Zoran Đinđić… And Vuk's encounters in time and in eternity, with Prince Miloš and Crnjanski, or dinner at Lukijan Mušicki's, by the abundance of ideas, witty words and associations undoubtedly belong among some of the most inspired pages of our new literature.     
Anđelka Cvijić, Knjižveni list (Literary Magazine)
Refusing to satisfy the reader's need to find a line of a narrative in and behind everything, the author disrupts the natural way of perceiving a novel which is always, even sub-consciously, focused on determining cause-effect links between its parts and on finding semantic signals that the mind could rely on. His novel is a linguistic, semantic and textual labyrinth which, as any other labyrinth, seen from the inside, by its simulation of openness and freedom of movement actually fits the fact that there is probably no way out and that one stays in it walking in circles forever.
Vesna Trijić, Povelja
The magical feature that I see in this book stems from the fact that this, before my eyes, is a total novel. If Itika jepolitika can be labelled as a novel at all; since Damjanov has perhaps surprised us with some angles of this work, but not with its hybrid and undetermined nature. What is this piece of work: is it a dictionary? A collection of essays? Of short stories? Previously published and those unpublished? A pastiche of a heraldic textbook, which is a collection of poetry at the same time? Is it a handbook for divination? Itika jepolitika is everything: a book that is Babylonian (or Alexandrian, indeed?) by its textual reach, or alternatively historical, humorous, micro and macrocosmic. The fact that I find particularly to my liking is that which is microcosmical, intimate and delicate in this book.
Miloš Jocić, Novi polis
Embodying each emblem-tarot card of Serbian literature, Sava Damjanov has impressed in it both the appropriate style of the epoch and woven into our linguistic treasure in all its changes, flashes, vigour and silences. This Work can be said to be a Great Synthesis of the creative opus of Sava Damjanov, a synthesis of his ambiguous intentions, as well as Life's diversity and multilayeredness. This Book, like twenty-nine old Nietzsche's The Birth of Tragedy from the Spirit of Music, "views science throught the eyes of an artist, and art through the eyes of life," as Nietzsche wrote in his An Attempt at Self-Criticism. Sava Damjanov's book, another attempt of self-criticism of everything contempated, written and most importantly – everything EXPERIENCED so far. Since, a dream is no less expereinced than reality, or fantasy…
Jelena Marićević, Koraci