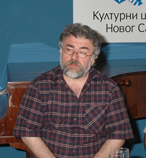 Born in Podgorica in 1955, he has been living in Belgrade since 1998.
Books of poetry:
Emotional Poems and One for Horses (1984); Socks in the Grass (1987); Fat Girls (1990); Keep Your Chin up Snowdrop (1993); Bits and Pieces (1994); The Muses' Winds (1995) as well as a scrapbook: Playing to Malaparte (2002)
Books he has published under the pen-name T. H. Riač:
Raped Again (novel, 1990); The Best by Jack the Ripper (novel, 1995); The Dictionary of Aphrodisiacs (1997); A Man with No Bones (novel, 2003)
Books published under the pen-name Ravijojlo Klikovac:
Librus Docleanus Palamudus (The Dictionary of Duklja [Doclea]), 2006)
Cookery Books:
Slavas (1999); Crepes (2000); A Cookbook for Every Day (2002)
Prepared:
I Don't Believe I Didn't Know This (Fairytales, 1995); Shakespeare's Sisters (An Anthology of Stories by Women from around the World, 2002); Post-Modernism in the Square (with G. Božović, 1988); Casablanca (an essay on the movie Casablanca, 1990); About Crime Stories (essay, review Ovdje, 1995); Lajkovac Is Not So Far Away (realistic prose, Polja, 2004); Night Stories (world fantastic fiction, stories, 2004)
Participated in projects:
Magical Forest (Serbian Contemporary Erotic Story, 1996); Serbian Crime Stories (magazine Reč, 1998); My Private Tito (magazine Polja, 2002); The Bukowski Project (stories, 2004)
Book reviews
The grandeur of the novel Raped Again originates from the poverty of its model. But, this is exactly what makes this parody of the farce so tragic: it linguistically testifies to the tragedy of the language in genre production. And as the model here is actually a form of the un-reached genre, Raičević reminds us again, although unpretentiously in his punster twist, that we have been living within the framework and under the rules of the 'boulevard novel' (Predrag Marković, Borba).
T. H. Raič has transformed Pushkin's proposition that 'a novel requires babbling', into a rule according to which a novel requires an unrestrained wit. Wit which requires an equally unrestrained reader, and therefore The Best by Jack the Ripper is, in a way, a hermetic read (Gojko Božović, Borba).
The Dictionary of Aphrodisiacs is a book of an encyclopedic structure, a literary-gastronomic blasphemy, a compound of basic forms of human activities in a literary coating, which are definitely the largest sources of pure and sincere pleasure: sex and food (Goran Stanković, Sunday Dnevnik).
This book definitely belongs to the field of erotic, even pornographic literature (if they are not already synonyms), but its uniqueness and provocative character lies in the fact that whatever the author touches upon he turns into a parody in a very witty and utterly ribald way (Sava Dautović, NIN).
A cookery book, written with love and eyes full of tears (onion, you know), is a masterpiece worthy of even Steva Karapandža's envy (Vesna Tašić, Dnevni telegraf).
About the Best by Jack the Ripper
You have written a wicked book, yet you still feel like an innocent lamb (Raymond Carver).
This tragic eulogy gripped my heart from the very beginning (Ljiljana Habjanović Đurović).
Tears and laughter are, from an aesthetical point of view, a fraud (Jose, Ortega & Gasset).
A man has to be very highly educated to be able to write such a bad narrative (Milorad Pavić).